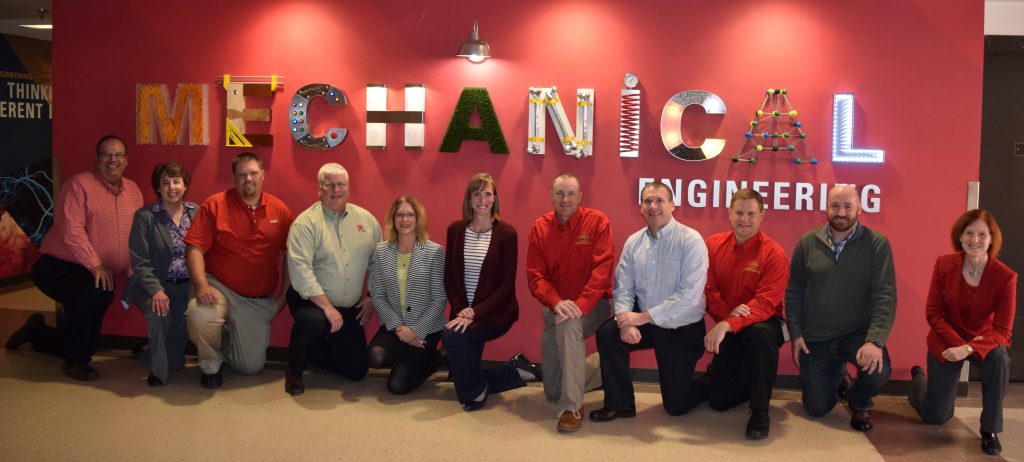 Full photo gallery from the fall 2016 Industry Advisory Meeting
Jason Olberding
Industry Advisory Council Chair
Manager, Special Products Group
Fisher Valve Division
Emerson Process Management
205 South Center St.
Marshalltown, IA 50158
(641) 485-8188
Jason.Olberding@emerson.com
Jason is an ISU ME graduate and serves as the Special Products Group Manager at Emerson Process Management in Waterloo, IA.

---

---
Brett L. Anderson, PE
Structures Technology Leader
The Boeing Company
P.O. Box 615 MC S102-1111
St. Louis, MO 63166-0516
(314) 545-6759
brett.l.anderson@boeing.com
Brett is an Iowa State BSAE alum and has been with The Boeing Company since 1989. He coordinates with internal and external technology experts to identify short and long term roadmaps to match business unit needs with strategic direction for both technology development and business opportunities.
Cynthia Lord
Manager—Fossil Fuel Procurement
Alliant Energy
4902 N. Biltmore Lane
P.O. Box 77007
Madison, WI 53707-1007
(608) 458-3417
cynthialord@alliantenergy.com
Cynthia is a BSME alum of Iowa State and has spent over 27 years in the energy industry. She is a manager in the Generation Engineering department for Alliant Energy, and is responsible for supporting the engineering needs of 15 power plants across Iowa, Wisconsin, and Minnesota.

---

---

Jeremy Berg
AEI Manager
Cargill, Incorporated
15407 McGinty Road West
MS 63
Wayzata, MN 55391
(515) 450-0543
jeremy_berg@cargill.com
Jeremy is a BSCE alum of Iowa State and has been at Cargill since 2004. He provides Automation, Electrical and Instrumentation (AEI) support to more than 30 oilseeds (soybean, canola, flax, corn germ) processing plats and refineries across North America.
Dave O'Brien
Machinery Group Lead
LyondellBasell
PO Box 2919
3400 Anamosa Road
Clinton, IA 52732
(563) 244-2471
David.obrien@lyb.com
Dave is a BSME alum and started at Lyondellbasell as a co-op engineering in 1990. He is currently the Machinery Group Lead and helps perform troubleshooting, executes upgrades, and provides technical support for the operation and maintenance of rotating equipment such as steam turbines, centrifugal compressors, and pumps.

---

---

Diane Fischer
Project Manager
Black & Veatch Corporation
11401 Lamar Avenue
Overland Park, KS 66211
(913) 458-7926
fischerdm@bv.com
Diane is a BSME alum of Iowa State and has worked for Black & Veatch since 1992. She currently serves as the Associate Vice President and Regional Area Director – Central Region for Power Generation Services and is responsible for client satisfaction, project execution, and business capture for power generation services projects in the central region of the United States.
Robin O'Callaghan
Kiewit Power, Inc.
9401 Renner Blvd.
Lenexa, KS 66219
(913) 928-7310
robin.ocallaghan@kiewit.com
Robin graduated from the ISU ME program and is employed as an operational mechanical engineering at Kiewit Power in Lenexa, KS. Robin has been active in Iowa State recruitment and is a licensed engineer in three states.

---

---

Greg Garrison
Regional Vice President – Northern Region
Union Pacific Railroad
1400 Douglas Street
STOP 1080
Omaha, NE 68179
(402) 544-6600
GNGARRIS@up.com
Greg holds a BS in mechanical engineering from the University of Arkansas at Fayetteville and is also a graduate of the Advanced Management Program at the University of Chicago's Booth School of Business.
Nancy Stewart
3M Center, 275-4W-02
Black Belt, Skin & Wound Care Division
P.O. Box 707
Lakeland, MN 55043-0066
(651) 737-1104
nestewart@mmm.com
Nancy graduated from ISU with a BS in mechanical engineering and joined 3M shortly afterwards. She has worked in a variety of positions at 3M and is currently serving on an assignment in the Lean Six Sigma Organization in the Skin & Wound Care Division.

---

---

Mike Hilby
Manager, Drivetrain Operations
John Deere Waterloo Works
P.O. Box 270
Waterloo, Iowa 50704-0270
(319) 292-7686
hilbymichaelj@johndeere.com
An alum of the department, Mike leads the Operations organization at John Deere Product Engineering Center. He is responsible for the efficient planning and growth of all Global Tractor Platform PV&V facilities.
Kyle Wehring
Senior Mechanical Engineer, Mechanical Design and Packaging
Rockwell Collins
MS 137-125
Cedar Rapids, IA 52498
(319) 295-8742
kdwehrin@rockwellcollins.com
Kyle is an ISU BSME graduate and serves as a design engineer at Rockwell Collins. He is responsible for mechanical design and packaging of electronics for fixed site, ground vehicle, and airborne applications.

---

---

Mike Jensen
Caterpillar, Inc.
812 W. Washington Street
East Peoria, IL 61630
(309) 578-1217
Jensen_Michael_J@cat.com
Mike is a BSME graduate of Iowa State and serves as a Senior Engineering Tech Team Leader at Caterpillar. His activities encompass working enterprise-wide new product development program challenges related to updating the Caterpillar machine product line to meet upcoming diesel engine emissions regulations.
 Joe Wright
Staff Engineer
Danfoss
2800 E 13th Street
Ames, IA 50014
(515) 956-5753
jwright@danfoss.com
Joe is an Iowa State BSME alum and has been with Danfoss Power Solutions since 2004. He leads a team of engineers in Europe and North America focused on simulation, development, and testing of hydrostatic transmissions for off-highway equipment.