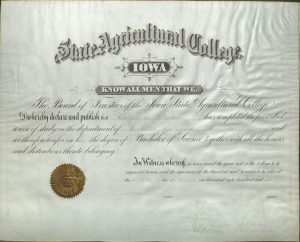 The department is currently working on a history book. If you have news items, photos, or other historic memories to share, please send them to Communications Specialist Nick Fetty at nrfetty@iastate.edu or call 515.294.5065.
The Department of Mechanical Engineering is one of Iowa State University's crown jewels, and we trace our heritage to the university's founding. The Morrill Act authorized the donation of public land to the states to provide higher education, accessible to anyone who aspired to it, in the areas of agriculture and the mechanic arts. Indeed, the university's first diploma was awarded in 1872 to Edgar Stanton in the discipline of "mechanic arts including mechanical engineering." Stanton went on to become a faculty member and chair of the mathematics department, and he served four times as acting university president. His heart was truly in his work, and he and his family contributed the bells of the central campus's carillon. "The Bells of Iowa State," quite literally, has its heritage in the mechanical engineering department.  ISU's Department of Mechanical Engineering was officially established in 1880 within the School of Engineering, which later became the College of Engineering.  As one of the largest and most vibrant departments on campus today, we have a special responsibility to lead and embrace the ideals of the modern land-grant institution.
A short summary of the department's history as written by former ME chair Henry M. Black.