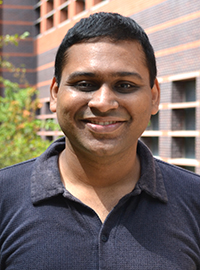 Adarsh Krishnamurthy
Assistant Professor
Mechanical Engineering
Main Office
208 Lab of Mechanics
Ames, IA
Phone: 515-294-5568


Education
PhD, Mechanical Engineering, University of California-Berkeley, 2010
MTech, Mechanical Engineering, Indian Institutes of Technology-Madras, 2005
BTech, Mechanical Engineering, Indian Institutes of Technology-Madras, 2005
Interest Areas
Computer-Aided Design (CAD)
Cardiovascular Biomechanics
Geometric Modeling
Computational Mechanics
Finite Element Analysis
GPU and Parallel Computing
Ultrasonic Non-Destructive Evaluation
Selected Publications
Adarsh Krishnamurthy, Matthew J. Gonzales, Gregory Sturgeon, W. Paul Segars, Andrew D. McCulloch, "Biomechanics Simulations Using Cubic Hermite Meshes with Extraordinary Nodes for Isogeometric Cardiac Modeling," Computer Aided Geometric Design, 43:27–38, 2016.
Ming-Chen Hsu, Chenglong Wang, Fei Xu, Austin J. Herrema, Adarsh Krishnamurthy, "Direct Immersogeometric Fluid Flow Analysis Using B-rep CAD Models," Computer Aided Geometric Design, 43:143–158, 2016.
Adarsh Krishnamurthy, Christopher Villongco, Joyce Chuang, Lawrence Frank, Vishal Nigam, Ernest Belezzuoli, Paul Stark, David Krummen, Sanjiv Narayan, Jeffrey Omens, Andrew McCulloch, Roy Kerckhoffs, "Patient-Specific Models of Cardiac Biomechanics," Journal of Computational Physics, 244:4–21, 2013.
Adarsh Krishnamurthy, Rahul Khardekar, Sara McMains, "Optimized GPU Evaluation of Arbitrary Degree NURBS Curves and Surfaces," Computer-Aided Design, 41(12):971-980, 2009.
Adarsh Krishnamurthy, Mohan Varadarajan, Soumya K., Krishnamurthy Chitti Venkata, Krishnan Balasubramaniam, "A Simulation Tool For Ultrasonic Inspection," Journal of the Korean Society for Non Destructive Testing, 26(3):153-161, 2006.