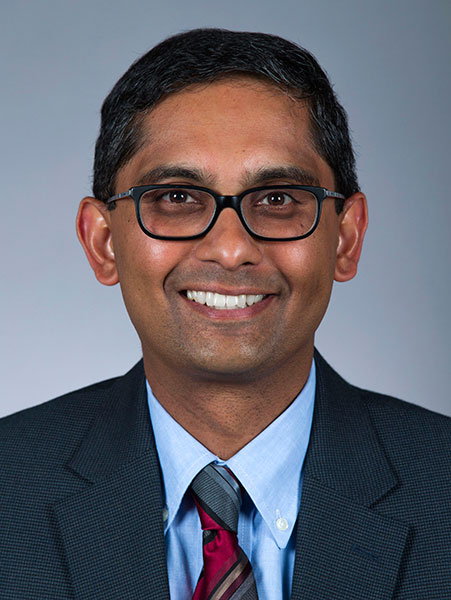 Sriram Sundararajan
Associate Dean for Academic Affairs
Professor
Mechanical Engineering
Main Office
4100 Marston Hall
Ames, IA 50011-2103
Phone: 515-294-1050
Fax: 515-294-3261


Other Office(s)
2080 Black Engr
Ames, IA 50011-2030


Education
PhD, Mechanical Engineering, The Ohio State University, 2001
MS, Mechanical Engineering, The Ohio State University, 1997
BE (Hons.), Mechanical Engineering, Birla Institute of Technology and Science, 1995
Interest Areas
Multiscale tribology (friction, lubrication and wear)
Surface Engineering
Engineering Education
Brief Biography
Dr. Sundararajan's research areas encompass multiscale tribology (friction, lubrication and wear) and engineering education.  He has authored over 100 articles in peer-reviewed journals and conference proceedings and two invited book chapters.  He has procured grants and contracts totaling over $6M from federal, corporate, private and University sources.  Dr. Sundararajan was also Co-PI on a $20M NSF‐EPSCoR grant to build statewide research capacity.  Dr. Sundararajan has developed graduate courses on tribology, scanning probe microscopy and broader impacts of engineering.  He has also been engaged in efforts to transform the undergraduate mechanical engineering curriculum and introduce engineering concepts to the K-12 community.

Dr. Sundararajan is a Fellow of the American Society of Mechanical Engineers (ASME) and serves as an ABET program evaluator. He is a steering committee member for the International Conference on Wear of Materials and an executive committee member of the Mechanical Engineering Division of the American Society of Engineering Education (ASEE).  He serves as their delegate on the ASEE diversity committee as well as a member of the ASME Diversity and Inclusion Strategic Committee.  Dr. Sundararajan is a recipient of the Young Engineering Faculty Research Award and Early Achievement in Teaching Award at Iowa State University.  He has served as associate chair for the department from 2008-2014 and as equity adviser for the College of Engineering from 2013-2018.
Selected Publications
A. D. Jenson, S. Roy and S. Sundararajan, 'The evolution of hardness and tribofilm growth during running-in of case carburized steel under boundary lubrication,' Tribology International 118, 1–10 (2018).
R. Sturms, D. White, K. L. Vickerman, T. Hattery, S. Sundararajan, B. J. Nikolau and S. Garg, 'Lubricant properties of ω− 1 hydroxy branched fatty acid-containing natural and synthetic lipids,' Tribology Letters 65 (3), 99 (2017).
A. Arabzadeh, H. Ceylan, S. Kim, K. Gopalakrishnan, A. Sassani, S. Sundararajan and P.C. Taylor, 'Superhydrophobic coatings on portland cement concrete surfaces,' Construction and Building Materials 141, 393 (2017).
J. Wagner, A. Jenson and S. Sundararajan, 'The effect of contact pressure and surface texture on running-in behavior of case carburized steel under boundary lubrication,' Wear 376, 851 (2017).
K.M. Tank, D. R. Raman, M. H. Lamm, S. Sundararajan, and A. T. Estapa, 'Teaching Educators About Engineering: Preservice elementary teachers learn engineering principles from engineers.' Science and Children 54, 84 (2017).
S. Sundararajan, 'A Broader Impacts Course for Engineering Students,' ASEE 2017 Annual Conference and Exposition*, Columbus, OH, June 2017.
S. Roy and S. Sundararajan, 'The effect of heat treatment routes on the retained austenite and Tribomechanical properties of carburized AISI 8620 steel,' Surface and Coatings Technology 308, 236 (2016).
X. Hu, C. Tourek, Z. Ye, S. Sundararajan and A. Martini, 'Structural and Chemical Evolution of the Near-Apex Region of an Atomic Force Microscope Tip Subject to Sliding,' Tribology Letters 53, 181 (2014).
R. Jaeger, J. Ren, Y. Xie, S. Sundararajan, M.G. Olsen and B. Ganapathysubramanian, 'Nanoscale surface roughness affects low Reynolds number flow: Experiments and Modeling,' Applied Physics Letters 101, 184102 (2012).
G. Lomboy, S. Sundararajan, K. Wang and S. Subramaniam, 'A test method for determining adhesion forces and Hamaker constants of cementitious materials using atomic force microscopy,' Cement and Concrete Research 41 1157-1161 (2011).