Opportunities in Nuclear Engineering
With a basic understanding of nuclear science, you will have many career opportunities.
Establish electrical energy systems such as advanced nuclear reactors needed by the United States and developing nations for economic security and growth.
Develop advanced radiation sources and detectors for use in scientific research as well as in precision manufacturing.
Contribute to national security through stewarding nuclear weapons and establishing engineering safeguards for nuclear systems.
Design radiation techniques to diagnose and combat cancer and other diseases.
Coursework
The Undergraduate Minor in Nuclear Engineering is open to all eligible Iowa State undergraduates. We offer many of the classes online.
Minor Requirements
Must have five courses from the following:
Required course NUC E 401
Optional courses NUC E 402,  NUC E 405, NUC E 421, NUC E 430, NUC E 441, NUC E 461 and NUC E 490
Coursework Road Map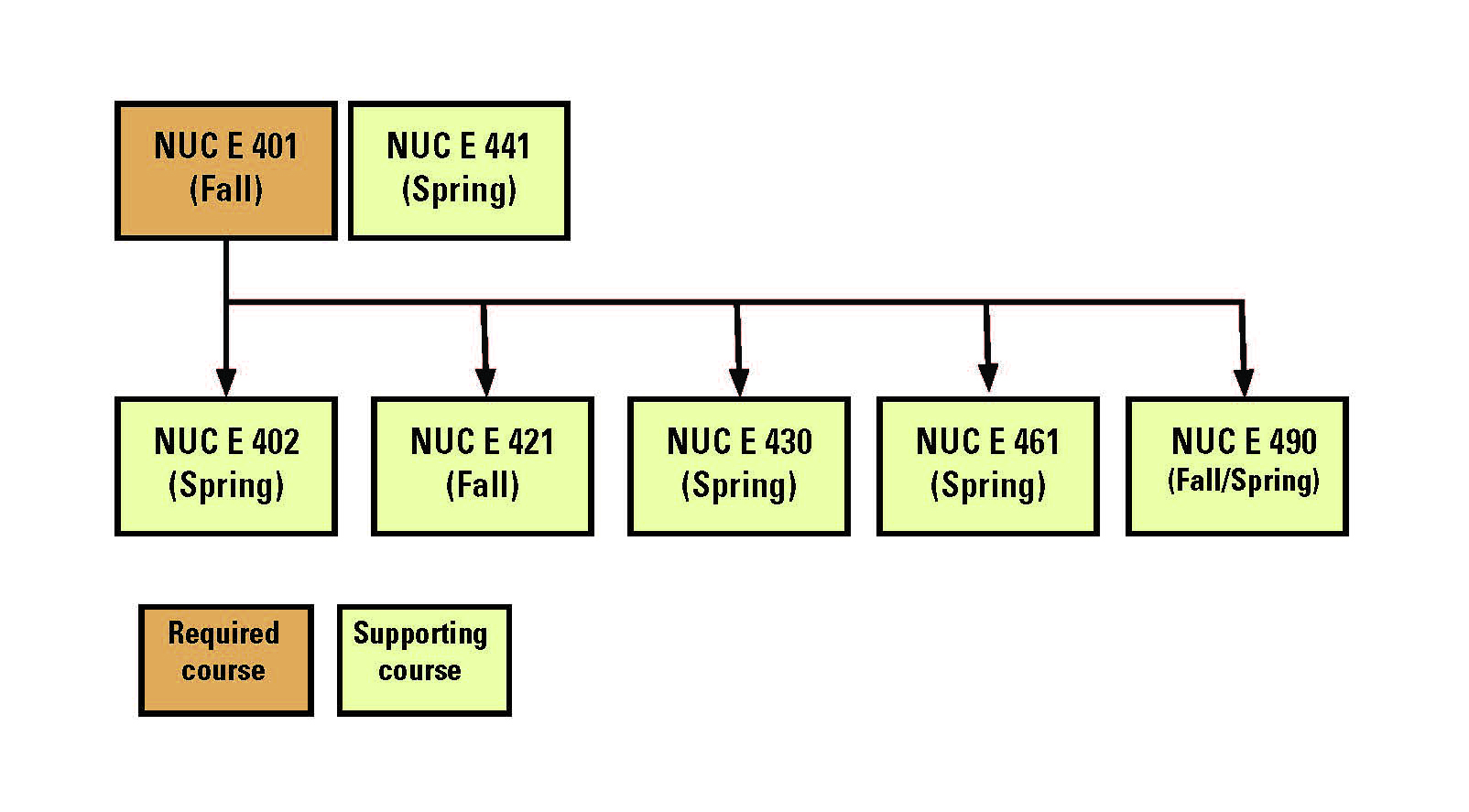 Course descriptions
NUC E 401 Nuclear Radiation Theory and Engineering (Cr. 3. F. Prereq: Phys 222, Math 266 or 267)
NUC E 402 Nuclear Reactor Engineering (Cr. 3. S. Prereq: NUC E 401)
NUC E 405 Radiation Protection and Shielding (Cr. 3. NUC E 401 or permission of Nuclear Engineering program director)
NUC E 421 Nuclear Criticality Safety (Cr. 3. F. Prereq: NUC E 401)
NUC E 430 Nuclear Energy and Society (Cr. 3. ALT.S. Prereq: NUC E 401)
NUC E 441 Probabilistic Risk Assessment (Cr. 3. S. Prereq: STAT 305 or equivalent)
NUC E 461 Radiation Detection, Measurement and Simulation (Cr.3 S. Prereq: NUC E 401)
NUC E 490 Independent Study (Cr. 1-3 F.S. Prereq: NUC E 401)
How to Apply
To apply for the Undergraduate Minor in Nuclear Engineering, follow these steps:
Complete the Request for Minor form available from the Iowa State University Registrar's office.
Obtain a signature from your academic adviser.
Obtain a signature from Dr. Greg Maxwell in 0155 ASC3.
We encourage you to consult either your undergraduate academic adviser or a member of the advisory committee for assistance during the application process. You can also contact the Undergraduate Program Assistant Kim McFarland (kim6@iastate.edu, 515-294-0368) in 2025A Black Engineering if you have any questions.