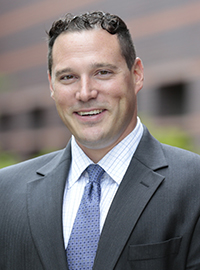 Richard T Stone
Associate Professor
Industrial & Manufacturing Systems Engineering
Mechanical Engineering (Courtesy)
Main Office
3027 Black Engr
Ames, IA 50011
Phone: 515-294-3644


Education
PhD, Industrial and Systems Engineering, University of Buffalo, 2008
MS, Information Technology (with concentration in Robotics and W/M programming), the Rochester Institute of Technology, 2001
Adv. Cert., Environmental Management Science, The Rochester Institute of Technology, 2002
Adv. Cert., Robotics and CAM, the Rochester Institute of Technology, 2001
BS, Management Information System, the Rochester Institute of Technology, 1999
Interest Areas
The core of my research is in human performance enhancement in both physical and mental domains. I employ multiple approaches toward this goal, including cognitive and physiological engineering, classical and experimental ergonomics, augmented reality, and the incorporation and application of new technologies. My past research has involved the development of design methodologies for AR and multisensory devices, telerobotic control system development, the application of biomechanics for improved sports performance and the development of visualization tools for improving battle space awareness.
Selected Publications
Schniders, T., Stone, R., Oviatt, T., Danford-Klein, E., "ARCtiC LawE – An Upper Body Exoskeleton for Firearm Training" Augmented Human, (accepted), 2016.
Krejci, C., Dorneich, M.C., & Stone, R., . "Assessing Values-Based Sourcing Strategies in Regional Food Supply Networks: An Agent-Based Approach" The Journal on Policy & Complex Systems, (accepted), 2016.
Krejci, C., Stone, R., Dorneich, M.C., & Gilbert, S. "Analysis of Food Hub Commerce and Participation using Agent-Based Modeling: Integrating Financial and Social Drivers," Human Factors (58) 1 (Special Issue: Human Factors Prize on Sustainability), pp. 58-79, 2016. http://dx.doi.org/10.1177/0018720815621173
AbdulMohsen Al-Besher, Richard T. Stone, "Current state of M-government research: comparing E-government and M-government research and their effect on civic engagement", accepted by International Journal of Electronic Governance, 8 (2), 2016. http://www.inderscience.com/info/ingeneral/forthcoming.php?jcode=ijeg.
Byrd, A., Stone, R., & Anderson, R., "The Use of Virtual Welding Simulators to Evaluate Experienced Welders", Welding, 94 (12), 2015.
Richard T. Stone, † Brandon Moeller, † Robert Mayer, † Bryce Rosenquist, Darin, Van Ryswyk, † Drew Eichorn, "Biomechanical and Performance Implications of Weapon Design: A Comparison Between Bullpup and Conventional Rifle Configurations", Human Factors 56 (4), pp. 684-695, 2014.
Frank Peters, Richard Stone, †Kris Watts, † Peihan Zhong, † Alex Clemons, "Visual Inspection of Casting Surfaces", AFS Transactions, 2013.
Peihan Zhong, Richard T. Stone, "Automated Kinesthetic Trainer Enhances Kinesthetic Memory Development", International Journal of Industrial Ergonomics 43 (3), pp. 238-245, 2013.
Richard T. Stone, † Elease McLaurin, † Peihan Zhong, † Kris Watts, "Full Virtual Reality vs. Integrated Virtual Reality Training in Welding", Welding 92(6), pp. 167s-174s, 2013.
Richard T. Stone, "Human Power Generation Design Assessment: An Evaluation of Ergonomic Risk, Metabolic Burden, and Overall Design Efficiency", International Journal of Human Factors and Ergonomics 1 (3), pp. 282-297, 2012.